---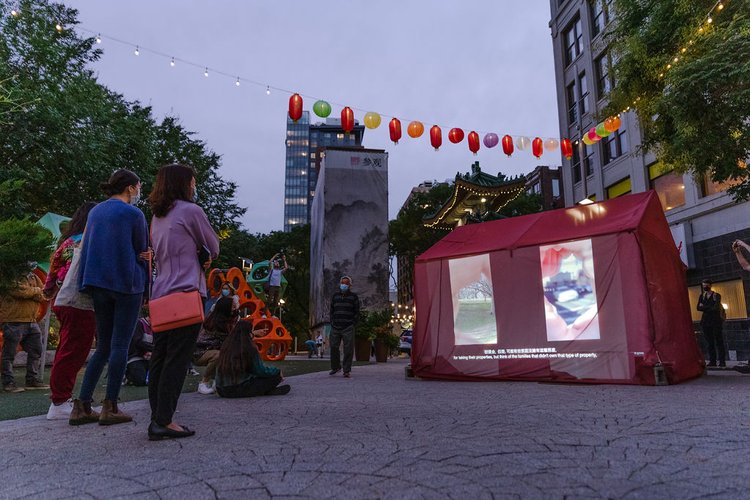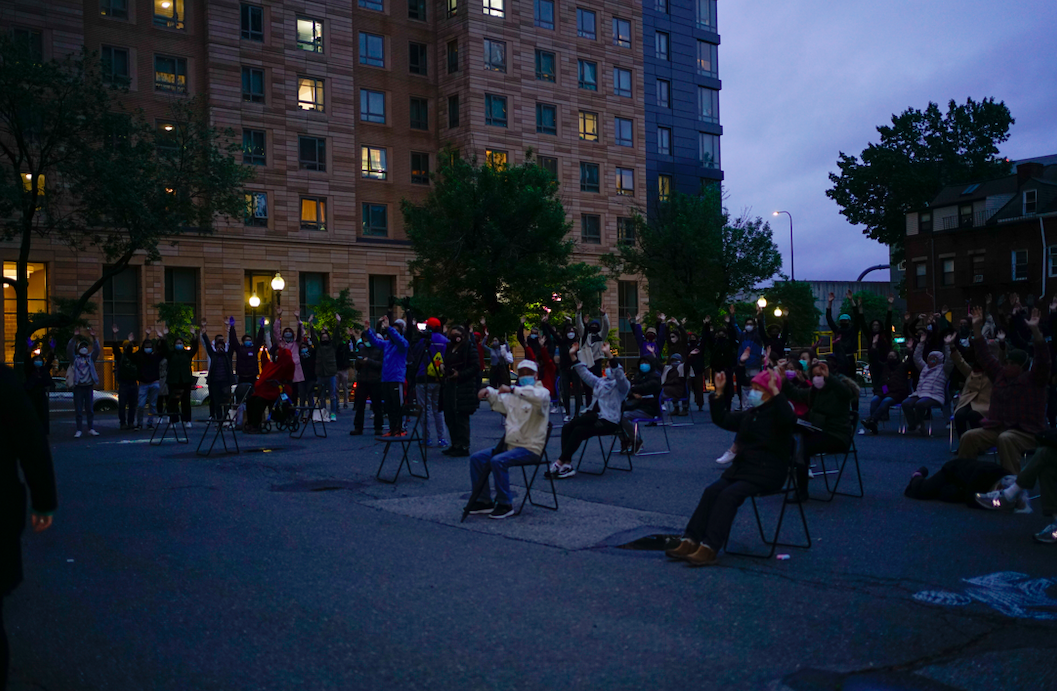 Washing

2020-2022
video projections, installation, oral histories, zines
Washing was a multimedia art project about the impacts of highway construction on Chinatown residents, and their present-day visions for environmental, cultural, and material repair. Using large-scale video projections, "Washing" transformed Chinatown's public spaces into windows, houses, and portals that told the story of how community power and spatial (in)justice have shaped Boston's Chinatown. This project was created in collaboration with Asian Community Development Corporation, and supported Chinatown grassroots efforts to engage residents on issues of spatial justice, especially the impact of the I-90 and I-93 highways on health and well-being. This past year, $1.8 million in federal funds were granted to study the feasibility of reconnecting the neighborhoods in Chinatown separated by the construction of I-90. I was the lead artist on this project, which was co-designed and co-created with Chinatown residents Chu Huang, Charlene Huang, Maggie Chen, and Dianyvet Serrano.
In these projections, which were co-designed and co-created by our team, residents describe coughing, nosebleeds, anxiously checking the air quality report, wiping black dust from kitchen countertops, and the ever-present sounds of vehicles. They also recount the violence of the highways' initial construction, which displaced hundreds of families from Chinatown, and pose the questions - who gets to control what happens in our neighborhoods? Who is responsible for repairing the harms of the past?
Listen to the stories [
site undergoing construction
]
Read the zine
---
Artist partners:
Maggie Chu, Charlene Huang, Chu Huang, Dianyvet Serrano, AsianCDC (Jeena Chang and May Lui)
Collaborators:
Rene Dongo, Wendy Han, Sung-Min Kim, Shaina Lu, John Ravenell, Gianna Stewart, Melissa Teng, San Tran, Sarah Wang, Daphne Xu, Boston Light and Sound, Chinatown Community Land Trust, Loop Lab, Community Assessment of Freeway Exposure and Health Study (CAFEH)
Interviewees:
Doug Brugge, Shirley Chin, Wing Fat Hon 韓荣发, Mary Knasas, Li, Pihua Lin 林碧华, Michael Liu, Anthony Maiullari
Washing was supported and made possible by Live Arts Boston, New England Foundation for the Arts, and Radical Imagination for Racial Justice (a partnership between Massachusetts College of Art and Design and the City of Boston).
Photos by Nohemi Rodriguez, Amanda Huang, and Mel Taing.